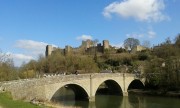 On a beautiful Spring day there is nothing better than wandering around Ludlow. Yesterday I took a stroll along the Bread Walk across Whitcliffe Common. I had forgotten what fabulous views there are over the town. The walk follows the banks of the River Teme, either at river level or climbing to the Common to take in the views. I can recommend parking in the town then walking down to Dinham, taking the path to the righthand side of the Castle. Take time to stop at The Green Cafe on the Millennium Green for either a coffee or cake or book a table for lunch.

Ludlow Castle from Whitcliffe

If the weather is good sit on the terrace and watch the wildlife on the Weir.


Now head over Dinham Bridge and take the lefthand path onto the Common, either climbing for the views or meander along the bank as far as Ludford Bridge. If you didn't have lunch at the Green Cafe then stop at the Charlton Arms, I had a delicious fish finger sandwich with tartare sauce and skinny fries with a glass of Mortimer's cider. Again, if the weather is warm sit on the terrace and sup a glass of local ale whilst watching the world go by!

Ludford BridgeA short stroll over Ludford Bridge, admiring the Horseshoe Weir on the right and you are at the bottom of Lower Broad Street. Head up the hill, through the Broad Gate and back to the bustle of Ludlow and a spot of retail therapy.